Gina Escobar L.Ac.
(831) 419 - 7885
Home
Treatment Options
Who Can Benefit?
Practioner Profile
Contact
Welcome to Natural Bridges Acupuncture Clinic
Holistic Healthcare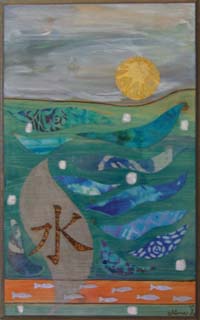 Natural Bridges Acupuncture Clinic is dedicated to helping our patients achieve optimal health and vitality. Our goal is to provide the highest quality of medical care by combining traditional wisdom and modern medicine. We provide personalized treatment plans in a relaxing and nurturing atmosphere. Natural Bridges Acupuncture Clinic recognizes the importance of preventative medicine and integrating lifestyle changes, nutrition, vitamins, exercise, Acupuncture and Herbal therapy in order to help your body heal itself.
Treatment options
Acupuncture.


Is one of the primary treatments used in practice of Traditional Chinese Medicine(TCM). According to TCM, Acupuncture promotes the body's healing abilities by regulating the flow of Qi (Vital life energy in the body, pronounced "Chee") by inserting very fine needles into specific points in the body. Over many years TCM has mapped out the flow of Qi in the body through a system called meridians or pathways. There are twelve meridians that connect to a specific organ or a group of organs that govern particular bodily functions. Illness results when Qi stagnates, blocked or is not in balance. When energy flows freely health is restored.

Facial Rejuvenation.


Non-surgery approach to improve wrinkles and strengthen the muscles. Unlike Botox injections which paralyze the muscle and in time weaken the facial muscles.

Herbs.


Chinese herbal medicine draws from a pharmacopoeia of thousands of thousands of herbs for specific conditions. Herbal prescriptions are given to patients according to their conditions. Using either a patent herbal prescription(tablets or powder) or a herbal formula(loose herbs) tea is made specifically for each patient.

Cupping.


Using glass cups to create a vacuum in order to increase warmth and circulation

Tuina Massage/Acupressure.


A massage technique which stimulates the meridians, facilitating the flow of qi.

Electrical Stimulation-Acupuncture.


Acupuncture points are stimulated using a safe, gentle electrical current.

Moxibustion.


The dried leaf of mug wort is rolled into a stick or placed on the end of needles, then burned as a warming therapy during treatment.

GWA SHA.


A gentle scraping of the skin surface using a gwa sha tool to increase circulation of Qi and blood.

Tai Chi.


movement exercises that develop harmony and balance, and promote maximum health.

Diet/Nutrition.


Specific foods used to strengthen, rebuild and balance the body

Nutritional Supplements.


Vitamins, minerals for nutritional deficiencies.
Practitioner Profile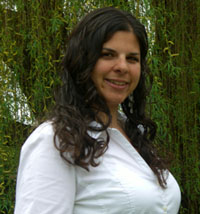 Gina Escobar L.Ac., Diplo. O.M., MTCM
Gina studied in her home town of Santa Cruz, California at Five Branches Institute where she received her Masters in Traditional Chinese Medicine. In 2006, she received her California license in acupuncture and herbology and her national Diplomate in Oriental Medicine. Gina also studied in Hong Zhou, China at the ZheJiang College of Oriental Medicine where she interned in hospitals, obtaining extensive training in Women's health, Tuina massage and Pediatric care. Gina also studied under Frank He where she earned a ceritificate in treating Sports injury. Her special interest include
Women's health
- infertility, pregnancy, pms, menopause. As well as
pain-management
and sports injury. Gina has great knowledge in western medicine; Interning at Plazita Medical Clinic Where she treated patients with eastern and western approaches. Her clinical treatment focuses on providing a comprehensive service integrating western medicine and chinese medicine to form a HOLISTIC approach to health. Voted "Best Holistic Healer" - Metro Goldies
Can Acupuncture help me?
A committee of United Nations of World Health Organization has issued a list over 43 diseases that lend themselves to treatment by acupuncture and herbal remedies.
List not limited to
:
Upper respiratory tract
Acute Sinusitis/Rhinitis
Common Cold/Flu
Acute Bronchitis
Bronchial Asthma
Colitis
Chronic Fatigue Syndrome(CFS)
Constipation
Diarrhea
Digestive system
Eating Disorder
Food Allergies/Sensitivities
Indigestion/Gas
Grief/Heartache
Hemorrhoids
Pregnancy/Labor
Pain
Irritable Bowel Syndrome(IBS)
Nausea
Tiredness
Reproductive System
PMS/Menstrual Disorders
Impotence
Infertility in male/females
Menopausal Discomfort
Palpitations
Pre-Post surgery
Psychospiritual/emotional
Side effects of Chemotherapy/Radiation
Stress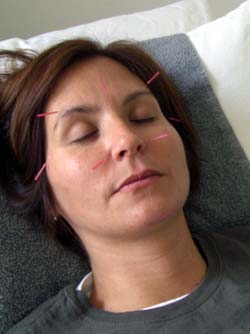 Contact Natural Bridges Acupuncture Clinic
Gina Escobar L.Ac., Dipl.OM
550 Palm Street
Santa Cruz, CA 95060

Located off Mission Street in the Palm Center
Main: (831) 419-7885
Fax: (831) 421-9086 gina@naturalbridgesacupuncture.com